On Course Business Award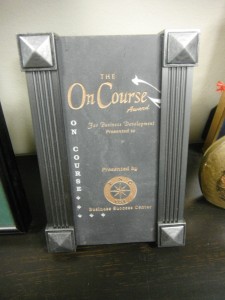 In 2010-2011, TeamNFP won the On Course award from the Business Success Center.
What does it mean to have an "On Course Business"? It means attention to details, processes, and procedures. It means having a vision of success and making all the little and big adjustments to get there. It also means balancing life and work to make it all worthwhile.
In presenting the award, the Business Success Center cited the work of TeamNFP's founder to make unique contributions to the nonprofit community and his commitment to excellence in his business practices.
The Story of TeamNFP
Veteran Robert Q Johnson, Managing Owner of TeamNFP, founded his business to serve the financial management needs of the non-profit community after first helping create a major software product called MIP. MIP began in Austin and was so successful that it was bought by Sage, which also owns Peachtree Accounting and ACT. Recently sold to Abila, it's now called Abila MIP Fund Accounting.
"Q," as he's known to friends and colleagues, built the reputation of his company on his expertise as a programmer solving unique problems and adding functionality to MIP. He grew his business by setting up a business partner alliance program and moving from a service company providing programming to a product company providing broader market solutions. He has added jobs and helped grow other businesses as he grew his business.
In addition to creating the policies and procedures to move from strictly one-off services to a full product line, he created an extensive sales and marketing support program. Selling only through "alliance partners," TeamNFP provides training and support as well as encouragement for all — partners and users.
TeamNFP continues to be able to expand and Q continues to grow his Payroll and General Ledger lines. One of the most successful is Payroll TM8 for those who use 3rd party payroll systems. Two international products, Multi-Lingual Checks TM8 and International Wire Transfer TM8, allowed him to serve US nonprofits working abroad. To do this, he teamed up with Adams Globalization. TeamNFP is committed to bringing the best resources together to create new add-on products for MIP and thus keeping the tradition going of assisting with the improvement of a great product for nonprofits of any kind in any place.